Per Jerry Seinfeld... "According to most studies, people's number one fear is public speaking. Number two is death. Death is number two. Does that sound right? This means to the average person, if you go to a funeral, you're better off in the casket than doing the eulogy."
How To Tell a Joke
(click here)
Club Anniversary Certificate
What is Toastmasters?
Toastmasters is a convenient, cost effective way to practice speaking in front of a group. You can move as quickly or as slowly as you like. You work with manuals that give you step by step pointers on organizing your speaking style, controlling nervousness, and increasing the impact of your speech. You speak before a supportive audience and receive immediate, constructive feedback. Please join us for our next meeting - no cost, no reservation needed! And no obligation to speak unless you'd like to do so!
The Benefits of Toastmasters?
Toastmasters helps people with their communication, speaking and listening skills in a mutually supportive and positive learning environment. Not everyone is going to be a company CEO or public orator, but we all communicate everyday in our lives whether at work, with friends or family, strangers or customers, as a coach for little league, or at a town meeting. We all want to be understood when we state our ideas or personal beliefs. Whatever the case, good communication and speaking skills will help foster self-confidence and personal growth.
"I've always been a believer in self-investment. Investing in 'your own stock' is one of the best places to put your money. The stock market may crash. The bottom may fall out from under your real estate investments. You may discover that some scam artist made off with your hard earned dollars.

But when you invest in yourself, the assets you buy are yours forever. The skills you learn become an internalized part of you. As a corporate entity, your worth increases...for the long haul.

In fact, I'd suggest that the value of your investment increases at a faster rate during tough times. Your competitors are often investing their money in big-screen TVs. And they're spending their time watching the latest reality TV program. You, on the other hand, can be spending your time building a better you." - John Kinde, author, speaker, humorist
When do we meet?
First & third Thursday of every month from 7:00 to 8:30 pm.
Guests always welcome - no charge!
Where do we normally meet?
Hackettstown Community Center
293 Main St. Hackettstown, NJ 07840
View Larger Map
Next Meeting

AGENDA
Dress is casual.

Contact Info

Phone: 973-570-9811
Hear from people whose lives were
changed by Toastmasters! (click here)
If you need help to tame your fears, you must read this!
Tame Your Public Speaking Fears!
(click here)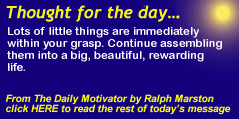 Toastmasters History

Founder Ralph Smedley
How to Give a Bad Speech
Speaking = a Death Sentence?
Skylands
#693785
Mount Olive, NJ
phone n/a
This e-mail address is being protected from spambots, you need JavaScript enabled to view it
First of Sussex
#1036544
Sparta, NJ
(201) 650-7127
This e-mail address is being protected from spambots, you need JavaScript enabled to view it
AT&T Bedminster
#344
Bedminster, NJ
(908) 234-7486
This e-mail address is being protected from spambots, you need JavaScript enabled to view it
Open Door
#681602
Denville, NJ
(973) 537-0194
This e-mail address is being protected from spambots, you need JavaScript enabled to view it
Picatinny
#3547
Picatinny Arsenal, NJ
(973) 724-5598
This e-mail address is being protected from spambots, you need JavaScript enabled to view it
Visit Toastmasters International" for details.